Every year during the Molly Appeal campaign, the Dalhousie Medical Research Foundation makes a request of the public, asking them — in the spirit of Molly Moore, who proudly donated a modest but meaningful five bucks in 1980 — to pitch in to support medical research at Dal.
That $5 donation, made by the housekeeper of a wealthy prospective donor with much deeper pockets, became a rallying cry in support of the belief that, even $5 at a time, anyone can fund medical research, just the same as the wealthy.
Every year since, the campaign features an area looking for public support. This year, the foundation is highlighting research into biomaterials — novel technologies that proponents say could revolutionize many areas of medical care.
"Biomaterials research has revolutionized how we diagnose and treat diseases, from dentistry to cancer" says Dr. Daniel Boyd, a Dal researcher who specializes in using various forms of glass as a medical biomaterial.
Dr. Boyd explains biomaterials is a wide umbrella term referring to any substance that has been deliberately engineered to work within the human body. (A hip replacement, for instance, is a biomaterial, as is a heart stent or a dental filling.)
To Dr. Boyd, the Molly Appeal campaign is useful in two senses: it helps raise funds, but it's also a way to bridge a sometimes-distant chasm between the public and the work of medical researchers, and build some awareness of what is going on at our public institutions.
"You could get all serious about the science, but in reality what motivates us is hope," Dr. Boyd says. "It's about hope, that we can discover brand new biomaterials."
Dr. Boyd specializes in glass products, though not really in the sense that most of us probably think of them.
His research involves tiny glass beads, about half the width of a human hair, that can be injected into a cancerous tumour (for instance) to release chemotherapy or radiation right at the target site. At the same time, glass beads can also be engineered to block blood flow to the tumour, further attacking, and hopefully shrinking, the growth.
Even Dr. Boyd seems floored by the technology, quipping that "this sounds more like Star Trek to the layperson."
"The hard part when we're engineering biomaterials is we have to balance two things — it has to be safe, and it has to be effective, and often times those pull in opposite directions," Boyd says.
Within those technical confines, though, Dr. Boyd views biomaterials with an inventor's sense of unlimited potential. "In my lab, I have the periodic table on the wall, with two words underneath," he says. "Now, invent."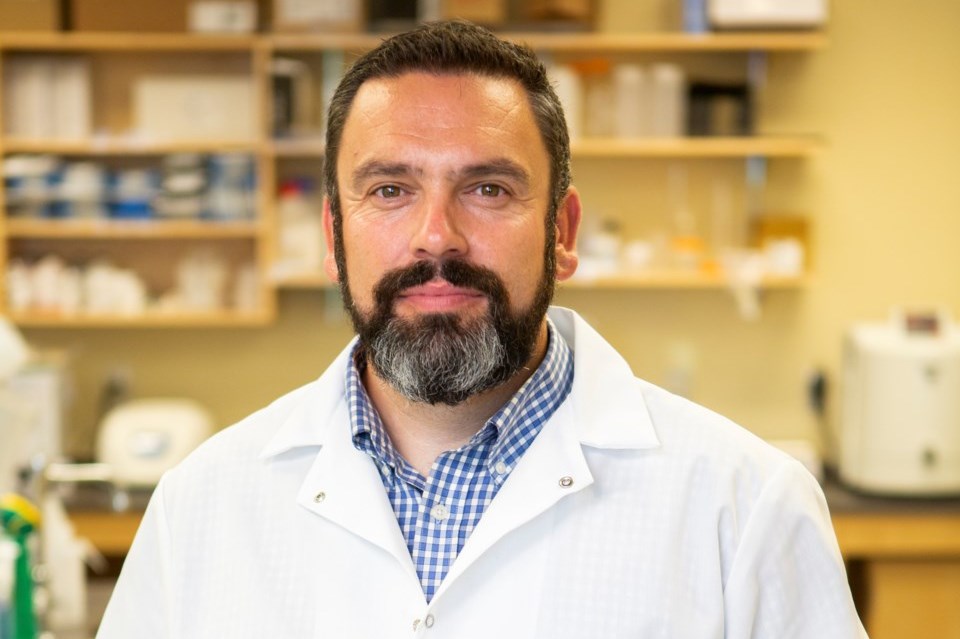 The long-term hope for research like this is that it can be spun off into startup research companies that can build prototype products, which could then eventually be put into widespread use. (ABK Biomedical, headquartered in Bayer's Lake, is one such company; the B in the name stands for Boyd.) This, he points out, has a knock-on economic effect, creating both research and non-research jobs close to home.
Getting the public involved hopefully speeds up the process.
"It takes years and years to get a hundred thousand [dollars]," Dr. Boyd says, of public grants that often fund this sort of research. "If we're going to do this thing, it has to happen at the community level."
In the end, his appeal to the public is about getting them involved, and injecting some cash and enthusiasm into the work.
"It's very exciting," says Dr. Boyd. "We're capable, we know what to do — but there isn't a hope in hell that we can do it without your support."