City staff have been given the green light to look into making safe spaces for pedestrians and cyclists during the COVID-19 pandemic.
Council voted 12-5 in favour of Councillor Shawn Cleary's motion that was asking for the "Temporary installation of tactical bike lanes and active transportation routes" according to the official motion.
But HRM's Chief Administrative Officer, Jacques Dube, says a report would take months to complete.
"To have a report come back on something like this, we're looking at several months clearly. I would say closer to the end of the year given all the other work that's going on right now," says Dube.
But in Cleary's motion, he requested an "expedited staff report" because if temporary bike lanes and active transportation routes are to be widened for COVID-19, it would have to be done sooner than later.
Clearly said other cities around the world have figured out how to do this during a pandemic, and Halifax was not special in this respect.
"Mexico City, Perth, Sydney, Calgary, Budapest, Bogata, Berlin, Philadelphia, London, Vancouver, Minneapolis, Milan, New York, Boston...New Zealand is actually funding all of their cities to do this right now. Are these cities somehow less busy than Halifax?" said Cleary.
Cleary says the motion is all about transportation, and making a safe space for people to get to essential jobs and services, while practicing social distancing, and not getting a ticket for having to go on the street to do so.
Dube says the city is following the province's lead when it comes to implementing the relaxing of restrictions, and says many changes could come out of that, including active transportation and bike lanes.
"We're going to look at what Dr. Strang orders us to do and we're going to look at very specific intersections when we know there's a business that's going to open with a lot of people in it, and adjust accordingly," says Dube.
So staff will be issuing a report on this, but when that report comes, and how it lines up with the COVID-19 pandemic, is unknown.
On Twitter following the vote, Cleary says he emailed the CAO and other city staff to remind them council had voted for a motion that was specifically asked to be "expedited".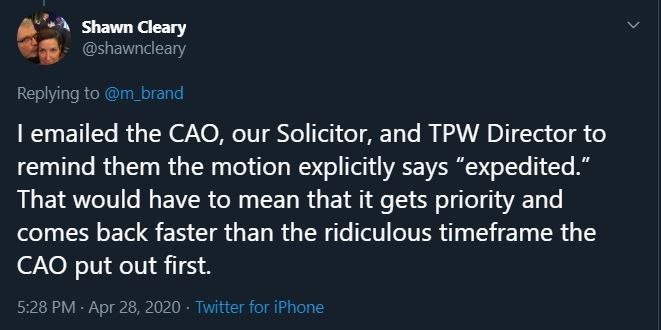 The final vote breakdown is as follows:
In favour: Cleary, Austin, Mason, Zurawski, Outhit, Nicoll, Mancini, Smith, Walker, Blackburn, Russell, and Savage.
Against: Hendsbee, Streatch, Whitman, Karsten, Adams.