Dartmouth, N.S. - LakeCity Works is well known in the community for its innovative fundraisers and their latest offering is no different. Officially marking the launch of their newest endeavour, LakeCity Structures, the winner of this year's lottery will walk away with a prize that's already been turning heads.
The entrepreneurial non-profit's desire to make an impact in affordable housing is the seed from which LakeCity Structures grew. Taking their construction and woodworking expertise, they have developed a range of structures designed to add space to existing homes, create independent micro homes and build custom solutions for community uses.
The micro homes are fully equipped units originally developed to offer government and other non-profits ways to add affordable housing to our communities. They can be installed as backyard suites or with several together in a cluster.
"The really exciting thing is the compoundable impact of this initiative," says Sophie Eld, Executive Director. "As well as being able to offer these affordable housing units as solutions for our communities, we also create jobs in the process. These jobs help the clients we serve, all individuals living with mental illness, as they continue their journeys toward independent employment."
Using social enterprise as a part of the solution provides another option to the more traditional developer model. "It means funds invested in homes for the community stays within the community." Eld continues, "As a non-profit we're motivated differently. Our objectives are about creating jobs and homes, not profit."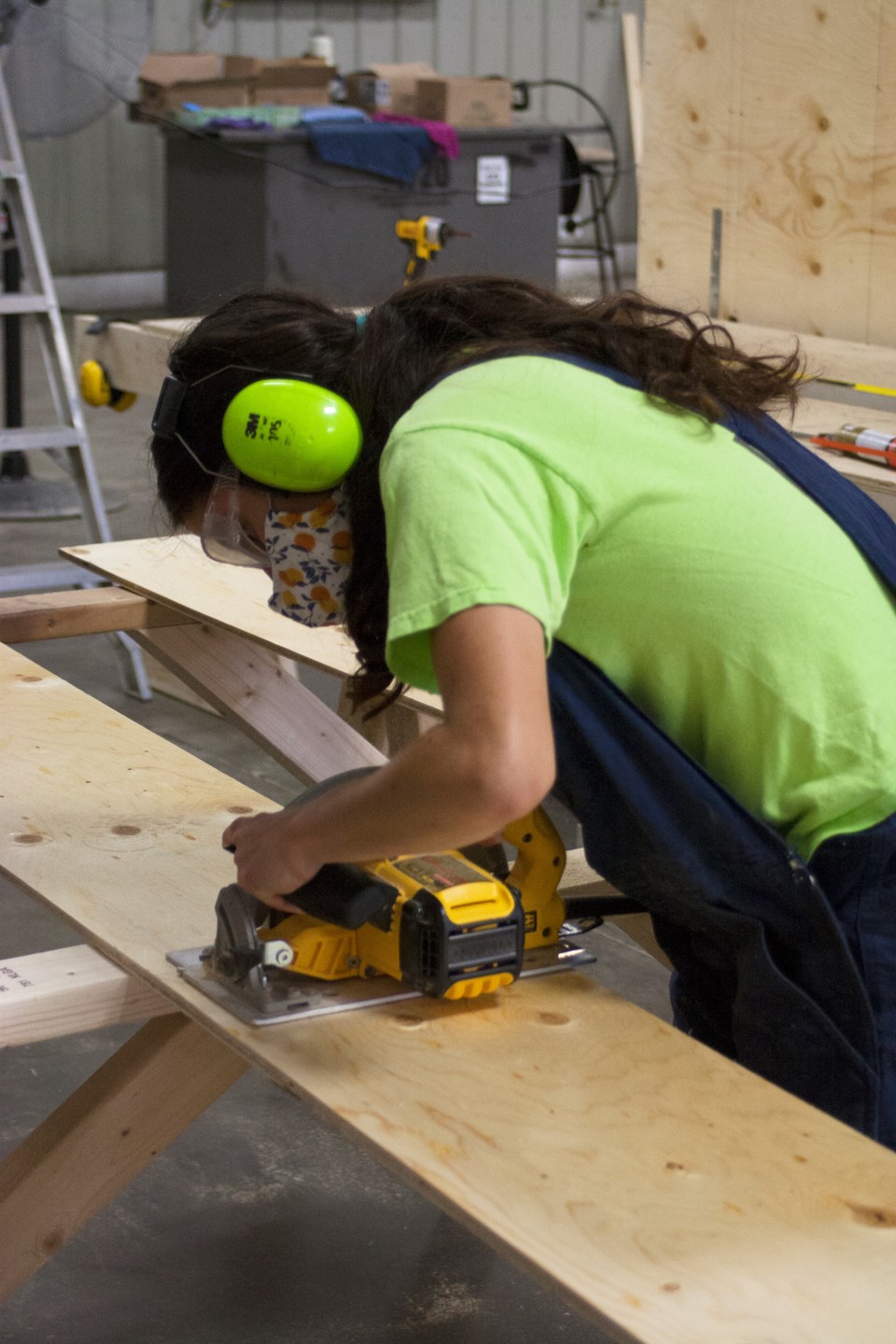 The micro homes are also attracting interest from individuals seeking an alternative option to the current property market. Responding to this need, LakeCity Structures expanded to create a range of urban cabins to help people add more space to their existing homes. "Come and see one for yourself, we have one sitting in our parking lot." Says Lisa Barkhouse, Director of Operations. "We developed it knowing that people often need more space but aren't always in a position to move. It's intended to be a permit-free option for homeowners looking to grow."
The 2021-2022 structure is a twelve-by-eight-foot interior space with a loft and includes a covered porch. It's fully insulated and has four double-hung windows to let in lots of light. For an easy install, it does not come with utilities. Still, Barkhouse says that will be a simple option for owners to put in place, should they wish.
Barkhouse excitedly shares what clients and staff imagine they would use the cabin for, "Some have said personal gym or yoga space. Definitely a home office for our accountant who just welcomed a new baby to his family and is working from home. An art studio, a guest room, playhouse... the options are limitless!"
The urban cabin will be the grand prize in LakeCity Work's latest fundraiser, "Including delivery and installation, of course." Says Barkhouse. "We wanted to make sure fans who love our hardwood furniture had an exciting reason to support us this year. So, we've included the option to choose a $10,000 furniture shopping spree at LakeCity Woodworkers. Whether you're focused on your interior or exterior, there's a great prize on offer!"
"There's already a buzz, and inquires have begun around the new structure being built in our parking lot." Says Eld. "People really get behind the LakeCity Lottery and it makes the world of difference to our clients. Last year we raised an impressive $250,000 in support of our clients and this year we're targeting an even bigger number. Whether it's jobs created, homes built or funding raised, we're all about the impact we can make. Luckily, we have a great community behind us."
For your chance to win LakeCity Works' 2021-2022 Urban Cabin or $10,000 Shopping Spree at LakeCity Woodworkers, visit trellis.org/lakecityworks/raffle. Tickets are available now, and are priced at $25 each or five for $100.
About LakeCity Works
LakeCity Works is an award-winning social enterprise managing multiple innovative ventures to benefit community and the environment. Leaders and innovators in the field of mental health – they support people with mental illness to build on their strengths and access work experience, education, and employment. To learn more, check out our website.