Recent gun-related incidents may be causing some residents of HRM to worry about a rise in violence, however statistics show violent crime has been trending down in Halifax since the 1990s.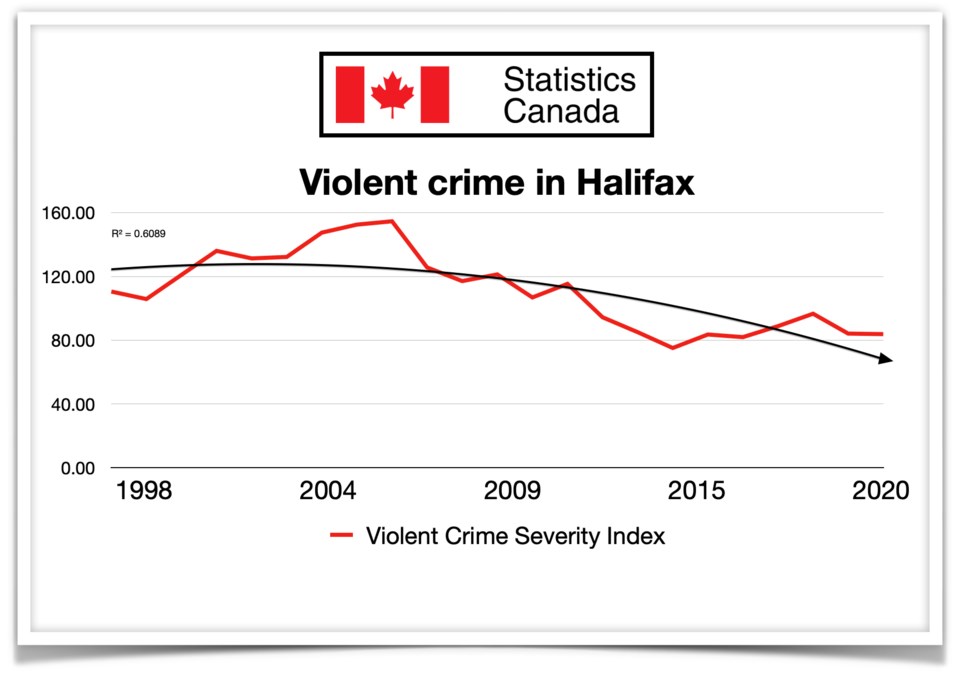 According to Saint Mary's University criminologist Stephen Schneider, a rise in violent crime essentially comes down to demographics.
"The more young men you have, men in their crime-prone years, the more crime and violence you're going to have," Schneider said.
The crime-prone years are typically between the ages 15 and 24. According to Statistics Canada, the proportion of males in that age group in Halifax has stayed at 6 per cent from 2016 to 2021.
Schneider says it's important for Haligonians to expect increases in crime as more people move here.
"As the population grows, the absolute numbers of crime will go up, but not necessarily the proportion," he said.
And Schneider is concerned about the number of firearms in our city.
"We're seeing a lot more guns on the street. So that's going to lead to more crime and violence," he said.
He believes the best way to combat crime is to address the root causes, which are complex and historical.
"Generally, if you want to address crime and violence, you have to address the social conditions that give rise to criminality, so poverty, inequality, broken homes, racism, marginalization," Schneider explained.
One recent gun-related incident caused an emergency alert to be issued to the public, but Schneider believes there are other ways to use technology in situations like that.
"My opinion is that we really have not taken advantage of smartphones and apps to help address crime and violence," he said.
Schnenider is working on an app that he believes could prevent some incidents. He said it would work a bit like the federal government's COVID Alert app.
"Let's say there's an abusive partner who's on parole and has a peace bond or a restraining order against an ex-girlfriend. I'm arguing that should go on his app on the phone or in his ankle bracelet. Anytime he gets near the victim, that app should notify that individual," Schneider explained.
According to Schneider, human trafficking is one of the biggest criminal issues in the province and those involved are taking advantage of technology.
"We have organized criminal groups that specialize in this and have become quite proficient in it. And a whole infrastructure has kind of evolved to facilitate the interprovincial trafficking of women," Schneider said.
"We're now punching way above our weights in human trafficking. Toronto and Halifax are the two epicentres for human trafficking in this country," Schneider said.
Statistics Canada will release the violent crime severity for the year 2021 in Halifax this July.